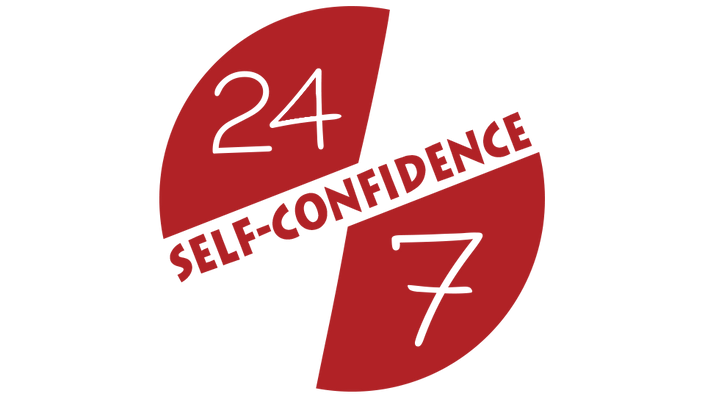 Self-Confidence 24/7
Finally, be self-confident in EVERY situation of your life! Put an end to self-doubt!
Enroll in Course
Join 200+ other students!
Are you tired of feeling insecure or anxious? Feeling like you're not in control of your own life?


Are you sometimes uncomfortable being who you really are? Comparing yourself to others? Doubting yourself? Being afraid of being judged by others?


Are you tired of not being able to stand up for yourself? Afraid to take action?
This course is for you if you want to…
Finally learn how to stand up for yourself and know what to do and say in every possible real-life situation – to finally build true self-confidence!

Finally feel sure, safe and comfortable being who you really are!

Finally have control over your life, your behaviors, your emotions and the decisions you make – to feel confident that they are the right ones for you.

Stop caring about what others think of you and never have to feel judged again.

Live a life without regrets.

Be loved for who you really are, be authentic and create strong and real connections with your surroundings.

Live a more successful and fulfilling life than you ever thought possible!
What's so different about this course?
Self-Confidence 24/7 is not just about teaching you how to build your self-confidence.
It's a completely unique experience that doesn't exist anywhere else on the market.
An experience that gives practical tools and directions on how to be authentically sure of yourself in ACTUAL REAL-LIFE SITUATIONS WE'RE ALL FAMILIAR WITH.
This will ensure that you'll know how to apply the methods I teach to directly and permanently improve your life!
You will finally be able to trust yourself and your abilities, count on yourself and set yourself free from self-doubt.
You will also be able to get out of your own way and accomplish everything you always wanted to!
From point A to point B…
The transformation is simply HUGE.
Right now, you might…
Find yourself in situations where you're not sure how to behave

Be afraid of saying "no", afraid of standing up for yourself

Just want people to love you for who you really are
But you don't know how to make it happen.
Don't worry!
After completing this course, you will…
Know how to behave, what to say and what to do in EVERY situation that you may encounter in your life, in order to become more self-confident and to feel better of being yourself.



The consequences of this transformation?
Have real and authentic relationships

Be doing quality work

Become more productive

Have that incredible sense of well-being that is missing from your life
yes
And all of this while being 100% your most authentic self.
Isn't is everyone's dream? To finally be able to feel good being who we truly are?
What's inside the course?
As you can see, you get access to practical tips on how to be more self-confident in EVERY POSSIBLE REAL-LIFE SITUATION!
If you've seen enough and are already convinced that this course is for you and you want to get started being more self-confident right away – click the button below to enroll now!
If you're not ready just yet and you want to know what else my course can do for you then I have got you covered with some AMAZING bonuses to make sure you have EVERYTHING you need to bring that self-confidence out!
BONUSES!
When you enroll in this course, you also get:
A BONUS MODULE containing 2 extra essential topics:
How to find your hidden skills and talents and use them as resources!

How to help someone else build their own self-confidence in real life situations!
+
We are comfortable with what we know! Start by knowing yourself better with these 13 pages of self-discovery.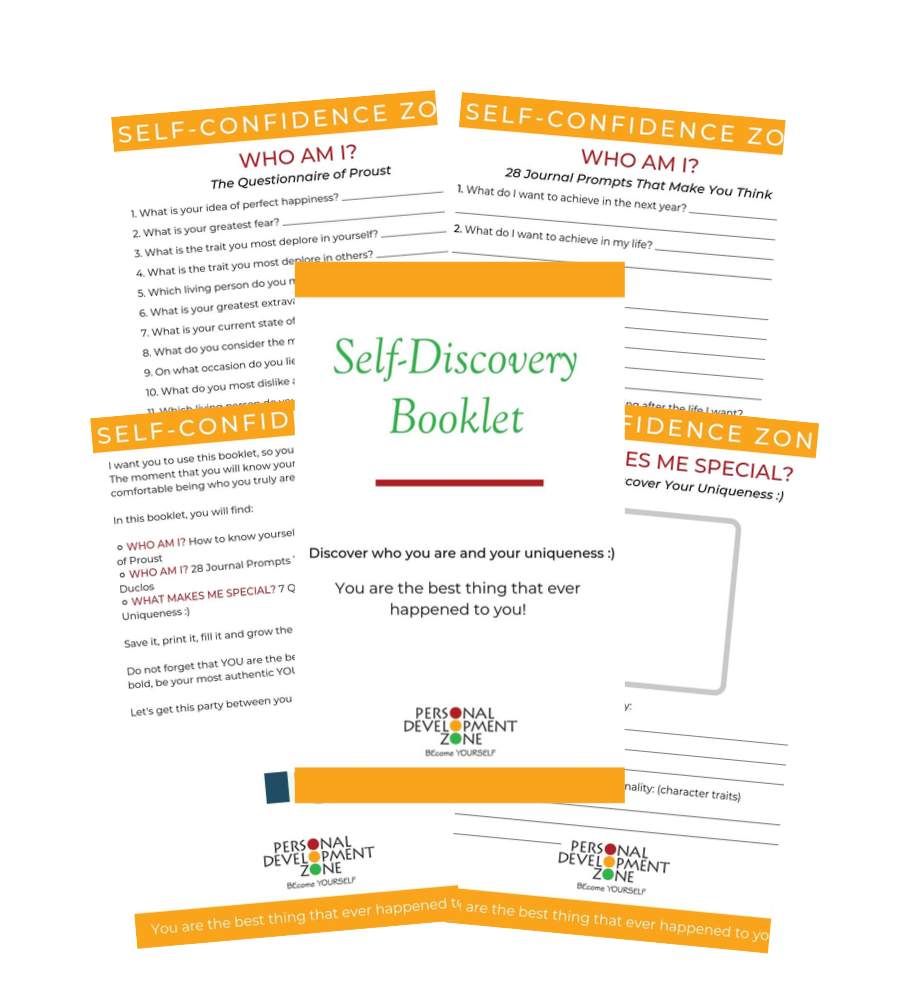 +
A SELF-REFLECTIONS WORKBOOK
Ask yourself the right questions to guarantee success on your self-confidence journey!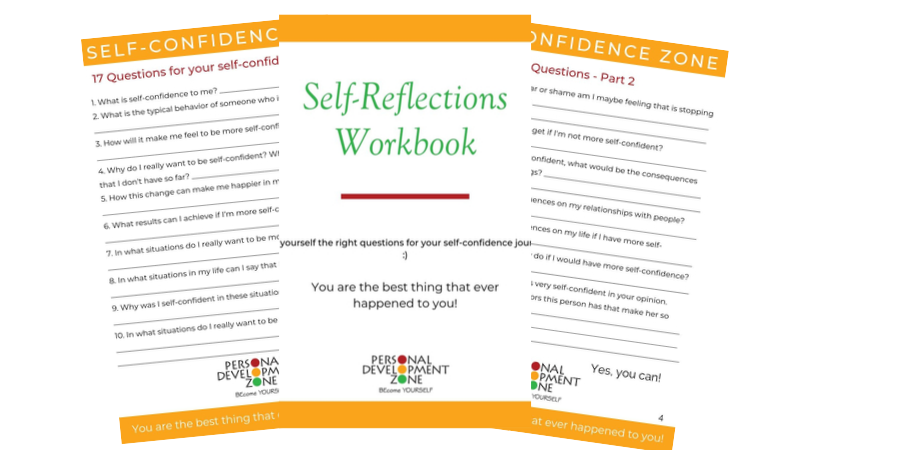 +
Self-care is an essential part of building your self-confidence.
Discover how and what to do to take good care of yourself, so you can become even more self-confident!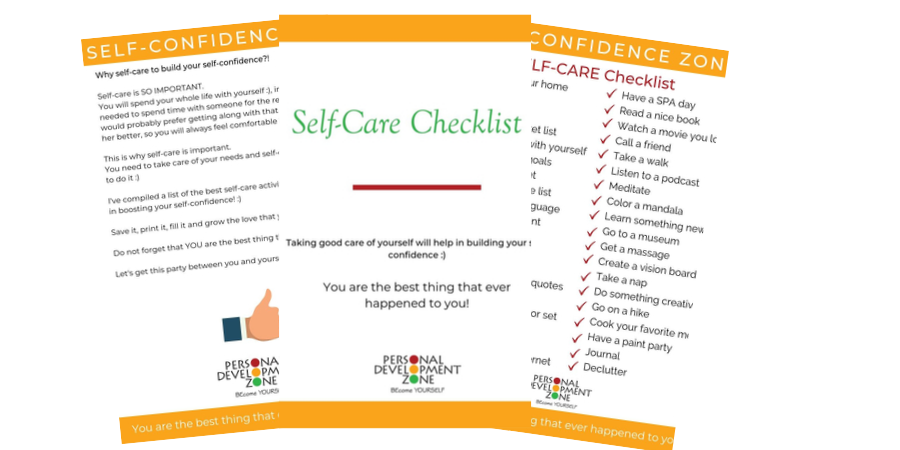 +
A SELF-CONFIDENCE 24/7 NOTEBOOK
So you can take all the notes you need and stay organized and on-track everywhere you go!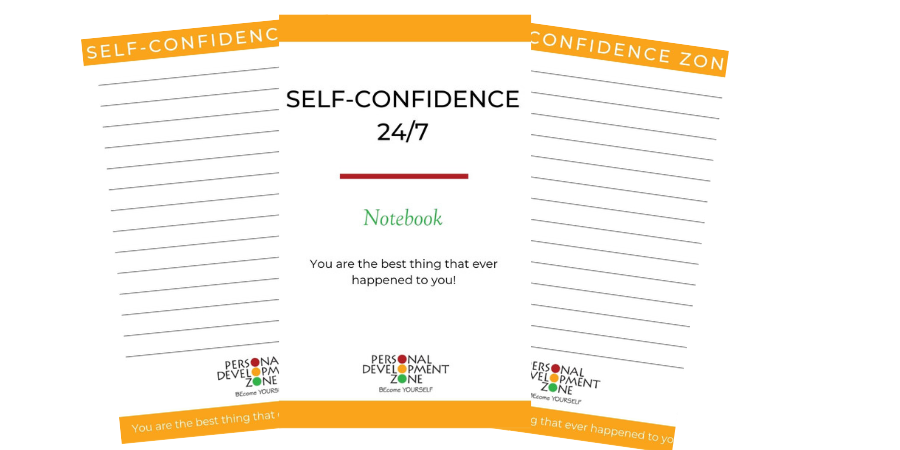 +
A UNIQUELY PERSONAL RELATIONSHIP WITH ME, YOUR COACH
I am NOT your average life coach. I truly care about each and every one of my students and I will ALWAYS be there, answering all of your questions and helping you no matter what. I take the time every day to answer every email I get from my clients and I promise to do the same with you!
TESTIMONIALS
What they say...
Here are just a few examples of how I can help you overcome feelings of insecurity, pressure from society and loved ones and crippling self-doubt.
These people felt just like you do now before they found me and my course, and look at how it has changed their lives!
"I did at least 20 coaching sessions with Tamara. I started with one idea in mind and ended up reaching other goals that I always wanted to achieve. Thanks to everything that I've learned with her, I can now coach myself and go in the direction of my dreams, on my own. I'm so grateful and will always highly recommend working and learning with Tamara. Thank you!"
- Liya W., Geneva, Switzerland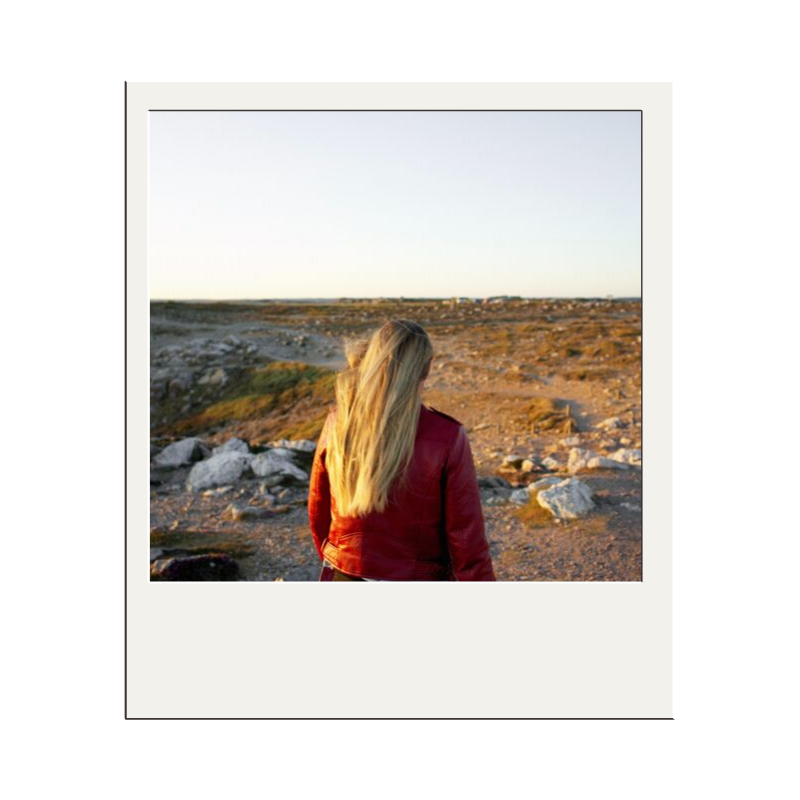 "Talking with Tamara to help clarify my career goals was great. She knew exactly which questions to ask to guide me on the path right for me… not merely follow a pre-set plan that has worked for someone else. Tamara emphasized that I had all the answers within me, and she helped me find them in a friendly, empathetic, and approachable way. I would highly recommend learning from Tamara!"
- Rachel B., Tel Aviv, Israel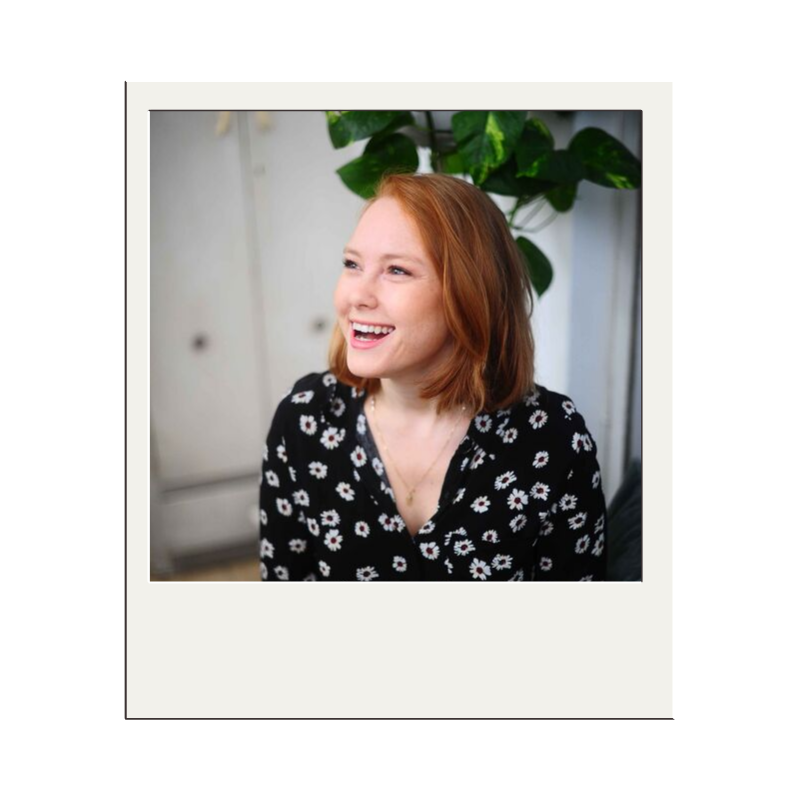 "I remember not knowing exactly what life coaching was. I remembered that it was going to have a cost and wasn't sure if I should invest or not. Then, I started working with Tamara and for sure, this was the best investment I have ever made! She asked the right questions, I found my own answers and was able to change my life right away. I didn't want someone to give me advice and tell me what to do, I wanted a change and I found it with Tamara. If you can learn from her, you don't want to miss that opportunity!"
- Jon B., Tel Aviv, Israel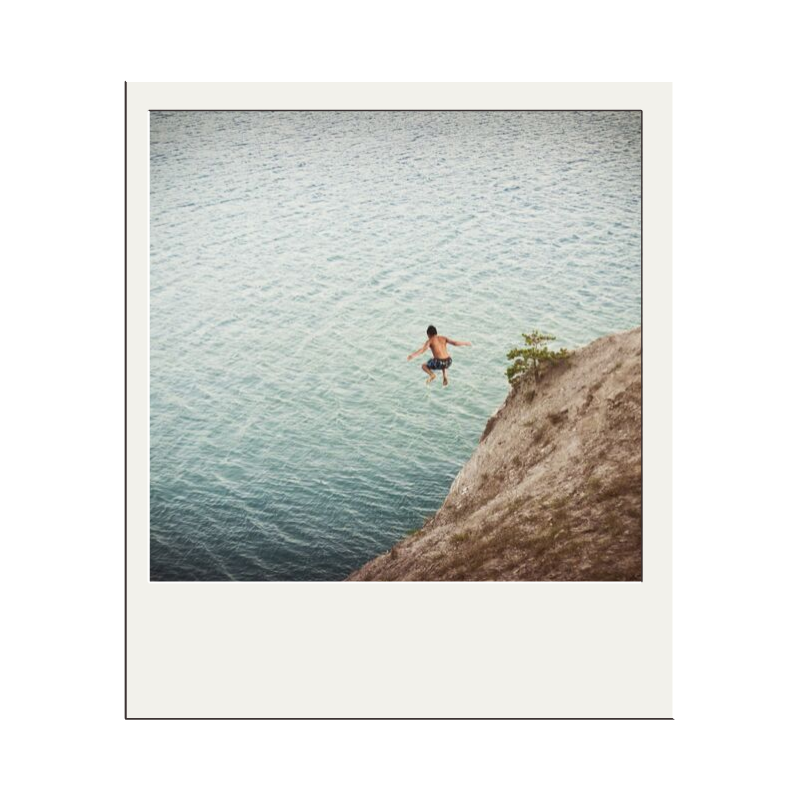 "I've been listening to Tamara's podcast for a while now and all I can say is that I cannot believe how much I've learned, without paying anything! I was super excited to hear that she created her own courses. I was looking for a course like this, I spent lots of money on courses that didn't teach me anything practical. This course is something like I never saw anywhere before! I think that she should charge way more!"
- Anna A., Paris, France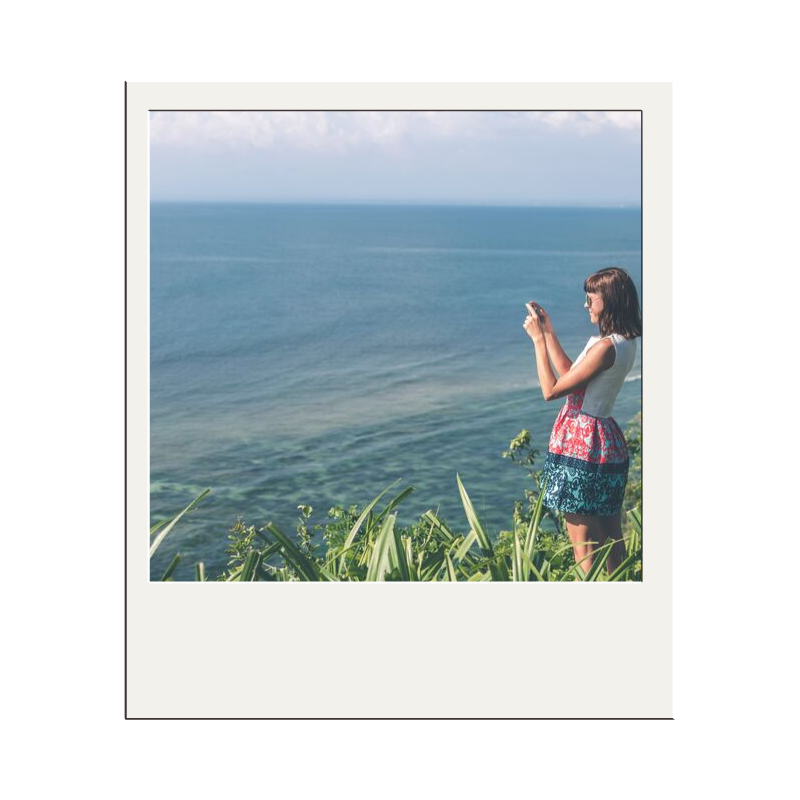 Do you want to banish your demons and build lasting self-confidence like these incredible individuals have? Well you HAVE TO sign up RIGHT NOW if you want to start building self-confidence and changing your life for the better.
If you want to learn more about me, your personal self-confidence coach, before you sign up then scroll down to get to know me better, and find out how I can help you take control of your life.
So you want to learn a little more about me and why you should trust me?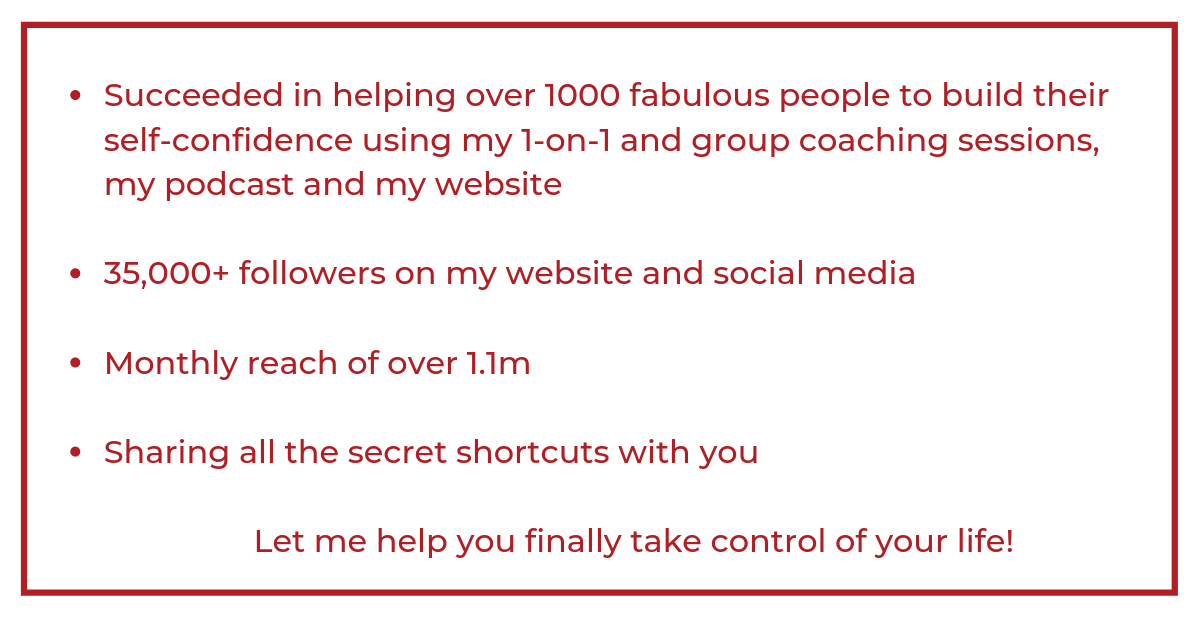 Your Instructor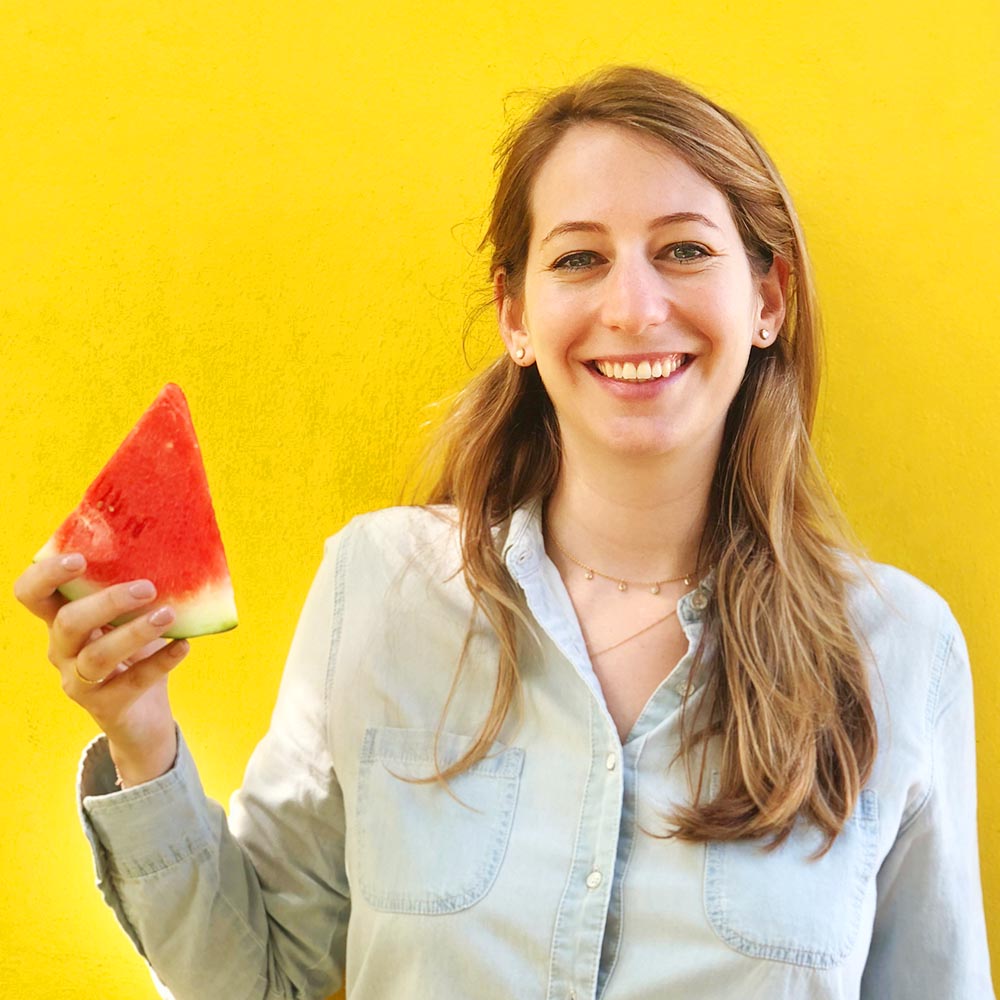 I'm Tamara Pflug, certified life coach and personal development champion.
I've run more than 500 1 on 1 and group coaching sessions.
I also have a successful podcast about self-confidence which I started in January 2019.
I know from the emails that I receive and from all the fabulous people that I have coached that everyone has self-confidence inside of them, all you need is someone to help you find it and bring it out!
Self-confidence coaching sessions usually cost Between $100 and $150.
The minimum number of coaching sessions you should expect to attend before achieving results is 6.
As you can see, my courses are PRICELESS if you compare what you would pay for a minimum of 6 sessions!
I want to make this course as accessible as possible for as many people as I can, no one should feel like they are alone on the journey to being more self-confident :)
Questions from students...
1. What will I get with this course?
• An online course that includes 8 modules and 52 videos
• A bonus module with 2 very helpful lessons
• Self-reflections workbook
• A unique relationship with me, your coach, who will be 100% available and answering emails faster than the speed of the light!
• A lifetime of true, lasting self-confidence 😊
2. How is this learning organized?
You can start with any modules you want to!
Also, this course is completely self-paced - you decide when you start and when you finish.

I'm at your disposal if you have any questions, whenever you may need my help! :)
I know that we are all very busy, this is why I created this course in a "self-taught" way, so you can take your time to go through it.
3. For how long do I have access to this course?
You will have LIFETIME ACCESS and FREE ACCESS TO ALL FUTURE UPDATES.
This means that you will be the first to know when new content is released, and the first to have access to it!
4. What format is the course in?
This is a video course. In each video I will take you through a unique presentation that focuses on one area or tool that will help you blossom in to self-confidence.
5. How is this course different than other courses?
Self-Confidence 24/7 is not just another cookie cutter course that will bore you to tears with theoretical models and mundane examples.
It's a completely unique experience that doesn't exist anywhere else on the market. An experience that gives practical tools and directions on how to be authentically sure of yourself in ACTUAL REAL-LIFE SITUATIONS WE'RE ALL FAMILIAR WITH.
You will finally be able to trust yourself and your abilities, count on yourself and set yourself free from self-doubt.
6. What happens after I purchase the course?
Once you purchase access to the course using one of the enroll buttons on this page, you will receive an email confirmation of your enrollment that will contain all the information you need to start learning from me and becoming a more self-confident person, just like you always wanted!
7. Where is your accent from, Tamara?
I grew up in Geneva, Switzerland, so my mother tongue is French. I learned English at school and during my travels. I still make mistakes, but I truly believe that my accent isn't going to stop me from helping you becoming super self-confident! :)
8. Is my credit card safe?
Of course! I'm using a professional course platform called "Teachable" to host all of my courses. Teachable is the market leader in online courses so your details could not be safer! If you'd feel more comfortable though, you can also purchase using PayPal.
9. Is this course really worth the price?
Coaching sessions with me usually cost $150 per session.
So, when you think about that, 147$ is less than ONE SINGLE SESSION. It's almost too good to be true, right? :)
Also, the bonus content and supporting materials like the Self-Discovery Booklet, Self-Reflections Workbook, Self-Care Checklist and Self-Confidence 24/7 Notebook would be at least $60 if you bought them individually.
Don't forget you also get 24/7 support from me, always available to answer questions you may have!
10. If I'm not happy, can I get a refund?
Yes! I am so super confident that this course will help YOU build YOUR self-confidence that I GUARANTEE to offer a full refund if you're not completely satisfied after 30 days!
FINALLY, LEARN WHAT WE SHOULD ALL HAVE LEARNED AT SCHOOL! :)
P.S. If you have any questions that I've not answered above, or you want to know any more information before starting the course, you can email me at [email protected] and I will happily answer you in no time!